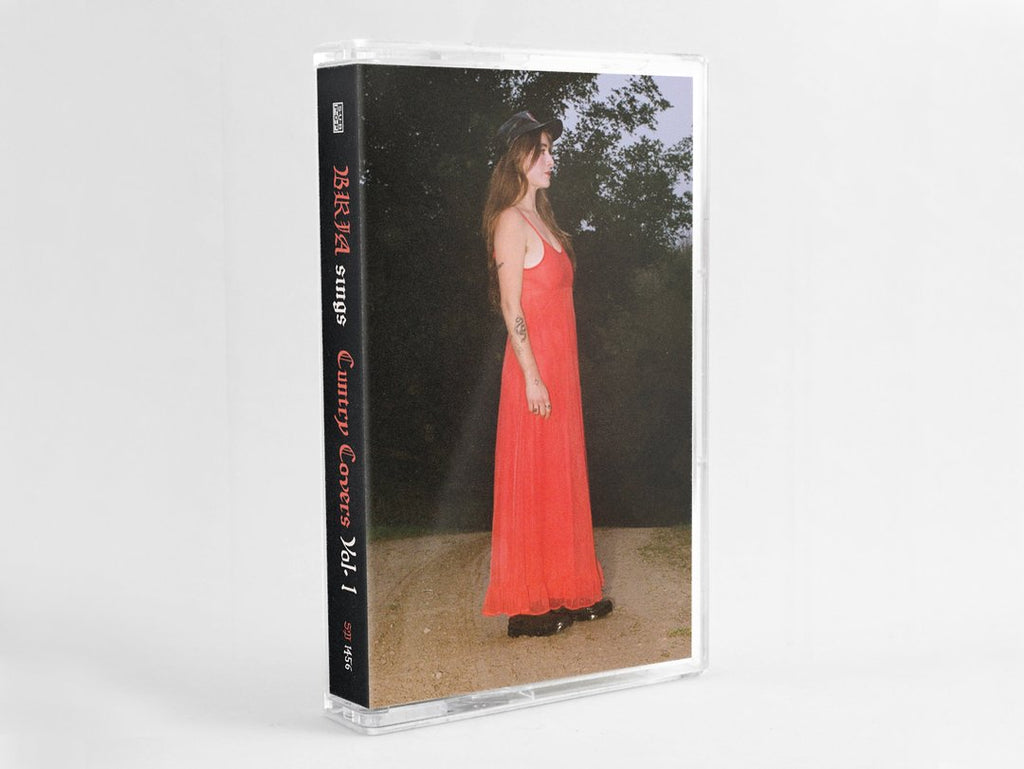 BRIA - cuntry covers Vol.1 - BRAND NEW CASSETTE TAPE
---
Bria is an intimate and incisive labor of love from multi-instrumentalists Bria Salmena and Duncan Hay Jennings. Catapulted by a deep sense of dread and confusion in the depths of 2020, Salmena decided to forgo writing her own music. "I wanted to listen for what might reflect my life back to me," she says, "six tracks that could be my mirror." The result is a pointillistic knockout of an EP that weaves a landscape both luscious and a little rogue; showing us exactly what good songs can do.  
Bria's internal turbulence seemed to mirror last year's external instability. When Jennings and back-up singer Jaime McCuaig moved to The Outside Inn, a hobby farm in Hockley Hills, Ontario, Bria soon joined. The farm's living-room-turned-studio proved an ideal setting for the long-time friends to compile a record of handpicked country covers. They went searching for songs that could speak to our everyday loneliness; outside and in. Cuntry Covers Vol. 1. houses it all: well-worn favorites and lesser-known gems. 
The record opens with "Green Rocky Road," as performed by Greenwich Village legend Karen Dalton. Jennings' twangy guitar carries Bria's original inflection and richly textured vocals, complete with dreamy overlay. "Dreaming My Dreams With You," a rendition of the Waylon Jennings hit, is followed by John Cale's "Buffalo Ballet," a lyrical journey through Abilene, Texas, the endpoint of the Chisholm Trail. Engineered and mixed by Jennings, each song brings desire and sexuality front and centre, with all the swagger you'd expect  – and more. Bria hopes the record will be understood as a small contribution to the subversion of a genre with deep patriarchal roots. Mistress Mary's "I Don't Wanna Love Ya Now," from the 1969 album Housewife, served as the original inspiration. "It was the first song Duncan and I worked on," Bria notes. "It definitely set the tone for the other tracks we picked." 
Bria's voice – described as wavering between "sultry and howitzer" – shines on "Fruits Of My Labour," written and performed by country great, Lucinda Williams. The Walker Brothers' "The Sun Ain't Gonna Shine Anymore" is a harmonic (and hypnotic) standout. A musical explorer who moves fluidly between styles, Bria doesn't consider herself a country artist: "I feel as though I'm a visitor here, paying respect to a style that has informed a part of my musical identity. Country music, as much as any other art form, should be an arena for representation, expression and provocation. I have a ton of reverence for artists who came before me and challenged the primarily white-heterosexual status quo."
Salmena and Jennings have toured for years as members of Toronto four-piece FRIGS, whose 2018 debut Basic Behaviour was long-listed for the Polaris Music Prize. Making a mark in diverse genres from country to punk, both play as permanent members of Orville Peck's band. Cuntry Covers was recorded on the territories of the Anishnaabe, the Haudenosaunee, the Wendat and the Mississaugas of the Credit. The release also features contributions from FRIGS drummer Kris Bowering and vocals by Ali Jennings. Bria's first release is a gorgeous debut, a homage to the songs that brought solace and relief in the stillness of last year.  
- Zoe Imani Sharpe 
---
Share this Product
---
More from this collection