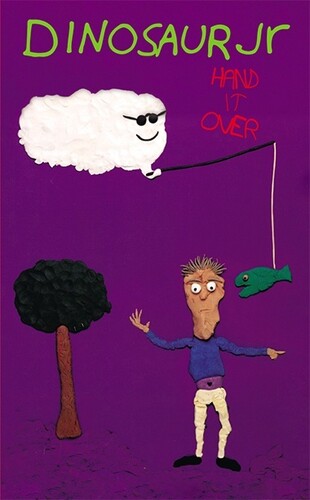 DINOSAUR JR - hand it over - BRAND NEW CASSETTE TAPE
---
[Reissue] Limited edition of 350 only copies on cassette!  

Formed in 1984,
Dinosaur
Jr carved a singular path through the latter half of the 1980s and first half of the 1990s, issuing a number of highly influential albums in the process. "Hand It Over", their seventh record, appeared in the spring of 1997 following a lengthy absence, and would prove to be the band's final album-length offering for a decade. Performed primarily by J Mascis, "Hand It Over" appeared at a time of declining international interest in American alternative rock, but nevertheless received widespread approval and appreciation amongst critics and reviewers. The album was accompanied, unusually, by an EP of non-album songs recorded for the Matt Dillon movie Grace Of My Heart and, later, a vinyl only 'I'm Insane' 7" single, all of which are collected here alongside a previously unreleased concert recording made in Stockholm and two tracks performed for ABC TV in Australia.
Accompanied by in-depth sleevenotes from Mojo's Keith Cameron (based on recent and exclusive interviews with J Mascis), this edition provides a final view of a band about to disappear from the limelight but still as engaging and powerful as ever.
TRACKLIST
I Dont Think 
Never Bought It
Nothin's Goin On 
I'm Insane 
Can't We Move This
Alone 
Sure Not Over You
Loaded 
Mick
I Knu Yer Insane
Gettin' Rough
Gotta Know 
---
Share this Product
---
More from this collection