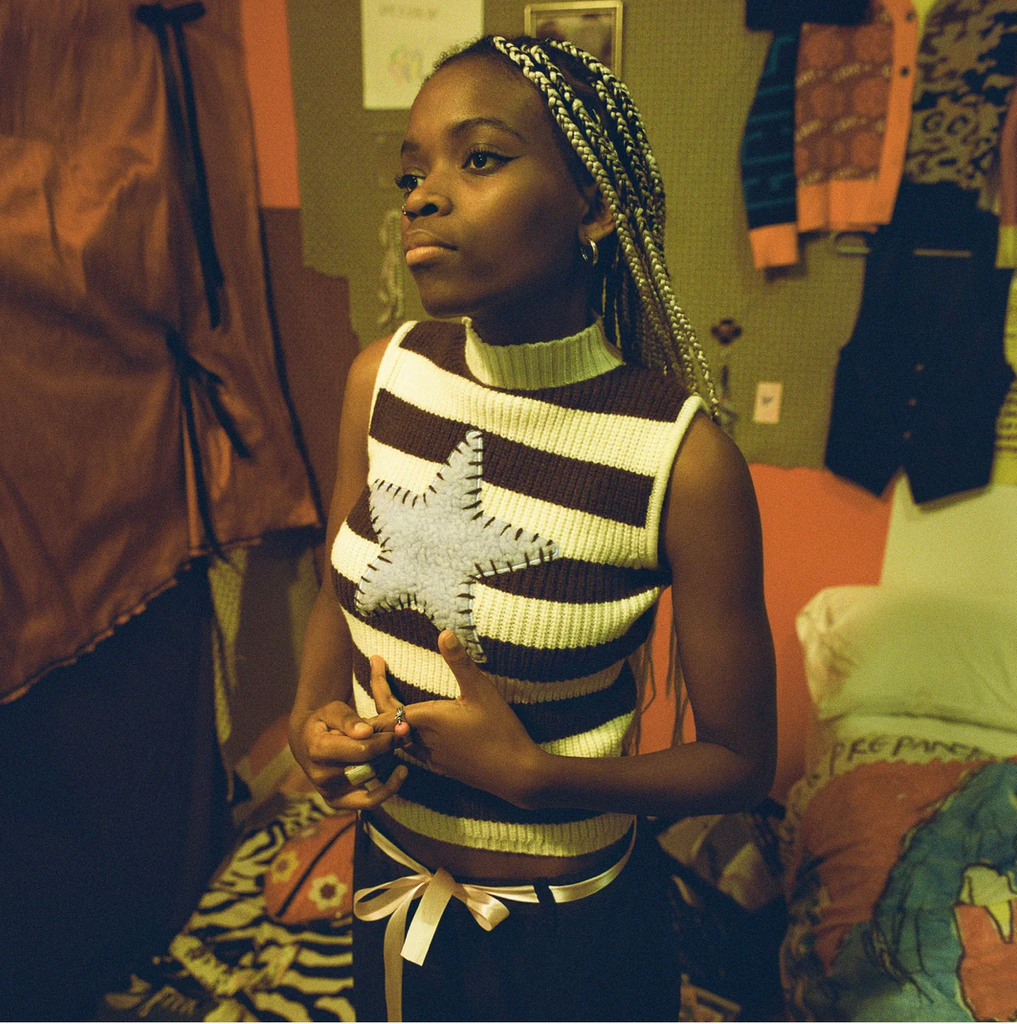 Hannah Jadagu - Aperture- BRAND NEW CASSETTE TAPE
---
Fresh out of high school, Hannah Jadagu released her debut EP, What Is Going On?, a collection of intimate bedroom pop tracks recorded entirely on an iPhone 7, which was, at the time, Jadagu's most accessible mode of production. An off-the-cuff approach to music making and instinctive ability to write unforgettable hooks belied the intensity of Jadagu's subject matter. In a short run time, What Is Going On? confronts some of the nation's most urgent struggles all through Jadagu's compassionate perspective. "I want my songs to be both super intimate and still universally relatable," Jadagu says. "With the EP, so many people told me that the songs resonated with them on a personal level, and that's what I'm always hoping for."
Resonate it did; What Is Going On? is Jadagu's first Sub Pop release, but she'd been putting out music on SoundCloud for years, garnering a small online fanbase as she settled into an aesthetic, and recognition from a broader audience was overdue. "It really took off when I became a percussionist in my middle school's band," she says. "Writing songs started as a hobby and quickly became a passion to the point that I spent all my free time recording." 
On May 19th, 2023 Jadagu premieres Aperture, her first LP and most ambitious work to date. Written in the years between graduating from high school in Mesquite, TX and her sophomore year of college in New York, Aperture finds Jadagu in a state of transition. "Where I grew up, everyone is Christian; even if you don't go to church, you're still practicing in some form," Jadagu says, laughing. "Moving out of my small hometown has made me reflect on how embedded Christianity is in the culture down there, and though I've been questioning my relationship to the church since high school, it's definitely a theme on this album, but so is family." 
As a kid, Jadagu followed her older sister – a major source of inspiration who she refers to as "the blueprint" – to a local children's chorus, where she received choral training. "I hated it," Jadagu admits. "But it taught me how to harmonize, how to discover my tone, how to recognize and write melody." The aching single "Admit It" is dedicated to Jadagu's sister, whose  boundless love and impeccable taste has been a constant for Jadagu ever since she was a kid. At home, the siblings were raised on mom's Young Money mixtapes  and the Black Eyed Peas (to whom she credits her love of vocoder) but it was in the sanctity of her sister's car that Jadagu discovered indie artists who would go on to inspire her work. 
"Lose" showcases Jadagu's love of contemporary indie auteurs as it weaves a spare and unpretentious guitar riff with barebones piano chords all while Jadagu sings about the thrill and underlying fear that comes with beginning a new relationship. It is, in her words, a "classic pop song." "The things we haven't done/ Play out in my mind/ Would you just give me time?" she sings, nearing the end, as the skittering drumbeat propels the song from a place of contemplative yearning to defiance. "Every track on this album, except for "Admit It", was written first on guitar, which is an instrumental throughline," Jadagu says. "But the blanket of synths I use throughout helps me move between sensibilities. There's rock Hannah, there's hip-hop Hannah, and so on. I didn't want any of the songs to sound too alike."
Emblematic of this ethos is the single "Warning Sign," which starts out as an acoustic, R&B slowburner before a muscular electric guitar enters the mix and the song morphs into something akin to psychedelic. "I knew I could make another album on my phone, but I wanted to make sure that I was leveling up, especially for the debut," Jadagu says. So she began the difficult process of searching for a co-producer capable of complementing her work without dominating it. Enter Max Robert Baby, a French songwriter and producer who captured Jadagu's attention with his take on Aperture's lead single "Say It Now." The duo worked together remotely, sending stems to one another via email, before eventually meeting in-person for the first time at Greasy Studios on the outskirts of Paris. 
"When I recorded my EP, it was all MIDI, but in the studio Max and I worked with a ton of analog instruments," Jadagu says. "There's some Glockenspiel on the album, calling back to my percussionist days, and some synth warping that adds texture." While What Is Going On? was heavy on layered reverb, making Jadagu's vocals feel "shy," she took what she calls a more "intimate, up close" approach while recording her voice for the LP. That experimentation is best heard on the rousing "What You Did," which leverages crushing accusations against the song's unnamed subject. Screaming static and a crunchy guitar part softens under Jadagu's calm delivery as she sings: "Act like it's best if we make amends, but I dont wanna talk to you again."
An aperture is strictly defined as an opening, a hole, a gap. On a camera, it's the mechanism that light passes through, allowing a photographer to immortalize a moment in time. For Jadagu, the word perfectly encapsulates the mood of her debut album. In the years it took her to complete, she faced moments of darkness, sure, but the process of making it, her first ever in a professional studio, was ultimately a cathartic experience, one she now shares with you, the listener. Let the light in.
---
Share this Product
---
More from this collection