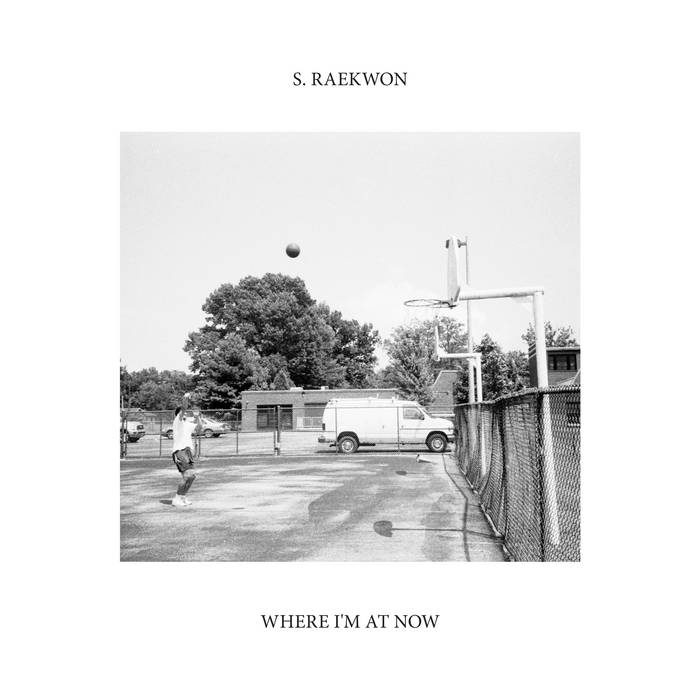 S. Raekwon - where im at now - BRAND NEW CASSETTE TAPE
---
S. Raekwon, born Steven Raekwon Reynolds on July 10, 1995, is a singer/songwriter and producer from New York City by way of Buffalo, NY. His life so far has granted him the warm allure of someone well-acquainted with matters of the heart. He always finds the feeling even when the words evade him, every note handled with care. The S. Raekwon project finds Reynolds documenting traces of a life both affected and infatuated by the power of difference. Some differences define us, some memories bear too painful to share, but S. Raekwon symbolizes a surrender to the power of one's intimacy, reframing his circumstances to earn his truth in terms both whimsical and hardened.
Reynolds' journey began as a biracial Black boy in working-class Buffalo. He never met his father and grew up with a white mother who loved musical theatre and playing piano. He didn't cut his teeth via a DIY scene, or in bands with neighbors and classmates; the isolation gave him space to channel his guarded nature into a freedom forged by the noises in his head. He gravitated towards guitar, finding wonder in solitary moments while weathering the tension of how his differences impacted his formative experiences. He learned early to keep his hands up in this world; music offered him an outlet
 

to drop the guard, to listen and experiment with no proclivity towards the ordinary.

After graduating from Case Western Reserve University in Cleveland, Reynolds moved to the East Village in NYC, an area he's been fascinated by since family trips as a teenager. In Spring 2018, as he worked a day job and sought connections with others, Reynolds wrote and tracked the first S. Raekwon demos in his dingy studio apartment. These first songs were a matter of necessity, an insatiable desire to externalize the internal fire of a life with many missing pieces. This moment of catharsis soon proved more fruitful than anticipated: rather than self-releasing, Reynolds shopped the demos around, leading to the release of his 2020 debut single Parts Towards Whole b/w A Crow's Smile via Saddle Creek's Document Series.

Where I'm at Now, released via Father/Daughter, is the product of two years of S. Raekwon tuning himself to the echoes surrounding his essence, past and present. In a first draft, Reynolds fashioned himself from the cloth of diaristic singer/songwriters before him, pouring himself across abstract soundscapes in an attempt to address the racial insecurities clouding his life's experience. The album we have now finds Reynolds freeing himself of the expectation to package his struggle; he doesn't waver from the search for meaning, but he's also concerned with matters more sweet. This is a collection of moments from the purview of a late bloomer, pushing himself past the isolation that serves him to create, yet keeps him defensive when facing the world. It's an album of love in all its forms: innocent, vulnerable, gentle, questionable.

Recorded between New York City and a six-month stint at his girlfriend's parents' home in Edwardsville, IL during the pandemic, Where I'm at Now is the album S. Raekwon made for himself with a clarity that arrived as he located his missing pieces in the world. Delicate as his approach may be, chaos truly underscored the two working years as Reynolds not only moved to lift the weight of the world off his spirit but connected with his roots. In a serendipitous turn of fate, Edwardsville was not only the same town Reynolds' father once went to college but is also in close proximity to St. Louis where most of Reynolds' Black family members are located. When he didn't work on music, he protested against police violence in Missouri, and eventually reconnected with this family for the first time since his childhood. Upon leaving Edwardsville in September 2020, Reynolds quickly finished the rest of the album, charged by a new fire in his spirit and the light of his blood driving him towards a new beginning.

Where I'm at Now embodies several palpable shifts in the S. Raekwon project, and Reynolds as a man. Completely self-produced and self-recorded (save for drums on two songs,) the music's driven by the relentlessness of the East Village and the quiet serenity of Edwardsville. The abstractions of his earlier musings transform into a warm wave of genreless coherence, drawing influences from across R&B, rock, folk, and pop to build a record that shines in its quiet spaces as much as its sweeping movements. Whether breakdown or ballad, S. Raekwon no longer hides in the codified cloaks of his metaphors and lends an honesty that grants passion and precision to the smallest details. He gives feeling to the pretty imperfections of our memories, be it the first kiss, the last touch, or the rage screaming within.

Simply put, Where I'm at Now is an album where S. Raekwon is no longer invested in hiding. These records don't contain answers, but signals toward what feels like the right direction. The roaming child, painfully aware of his difference and eager to understand it, is now a man walking tall on the path to knowing himself. Through his journey - of Blackness, of love, of pain and perseverance - he grants us permission to walk tall all the same. This music serves as a gentle, yet intentional reminder that we only need to be who we are in the moment, and we're worth becoming who we know we can be.


released October 8, 2021
---
Share this Product
---
More from this collection