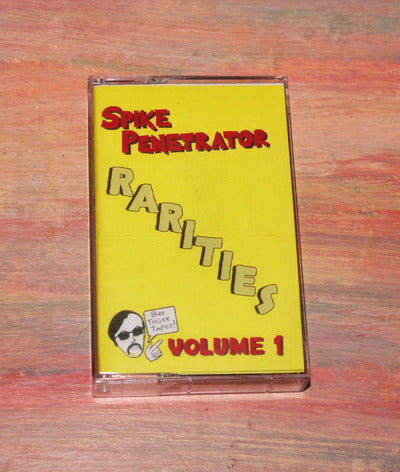 SPIKE PENETRATOR - 'Rarities Vol.1'  - BRAND NEW CASSETTE TAPE
---
CAPITOL IDEA CASSETTES, a label dedicated to documenting Upstate NY music from the past, is absolutely THRILLED to present to you, for the first time ever:
SPIKE PENETRATORS - 'Rarities Vol. 1' cassette.
All songs recorded in between 'Yeah, Yeah Baby' (1972-73 recording released on Feral Kid Records, sorry kiddies, all sold out!) and the first PENETRATORS recording (august 1976).
In Spike's own words:
'Definitely intended for completists and fans alike. It shows off the breadth and depth of the musical styles I was working with in that period because I felt that working in all these styles would really grab the attention of the listening public. It has classic Penetrators Rock (Life Stinks), Rockabilly (Get a Job), Soul (Mr. Slow, Waiting So Long, and You Don't Know Anything), Disco (No No No), Heavy Metal (Robot Stompin'), Punk (Subway and Subhuman Reunion), Country (Strangled by Jesus), and classic Spike strangeness and humor (Gestapo Baby). Enjoy and look out for Volume 2.'
Scum Stats: first press 100 cassettes, no variant.
---
Share this Product
---
More from this collection