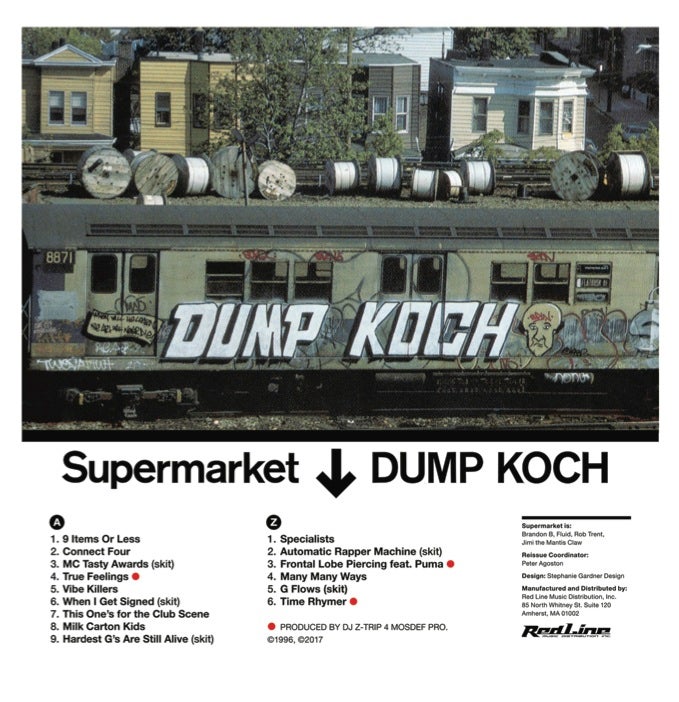 Supermarket "Dump Koch" Limited Re-Issue - BRAND NEW CASSETTE TAPE
---
Supermarket "Dump Koch"
Limited Cassette Re-Issue
100 piece pressing
IN STOCK - SHIPPING NOW!
December 4, 2017
Artist: Supermarket
Title: Dump Koch
Configuration: Chrome Cassette (Green Tint Colored)
Label: Female Fun Records
Catalog #: FF25
Price: $11.99
- Limited cassette reissue of this long out-of-print cult classic from 1996
- Features legendary DJ Z-Trip's debut productions throughout this album.
- 'Phoenix New Times' recognized song "True Feelings" prod. by Z-Trip as one of Arizona's greatest songs over the last 100 years.
- Group performed countless live shows during their time, supporting the likes of
KRS-One, Souls of Mischief, Living Legends, Jeru The Damaja, Del and more.
- One of the greatest lost 'Regional Rap' albums of the early 90's.
- Group disbanded in 1998 making 'Dump Koch' their only full-length release.
Track Listing
Side A
1 9 Items Or Less
2 Connect Four
3 MC Tasty Awards (skit)
4 True Feelings
Producer – DJ Z-Trip
5 Vibe Killers
6 When I Get Signed (skit)
7 This Ones For The Club Scene
8 Milk Carton Kids
9 Hardest G's Are Still Alive (skit)
Side Z
1 Specialists
2 Automatic Rapper Machine (skit)
3 Frontal Lobe Piercing
Producer – DJ Z-Trip [Featuring] – Puma
4 Many Many Ways
5 G Flows (skit)
6 Time Rhymer
Producer – DJ Z-Trip
---
Share this Product
---
More from this collection