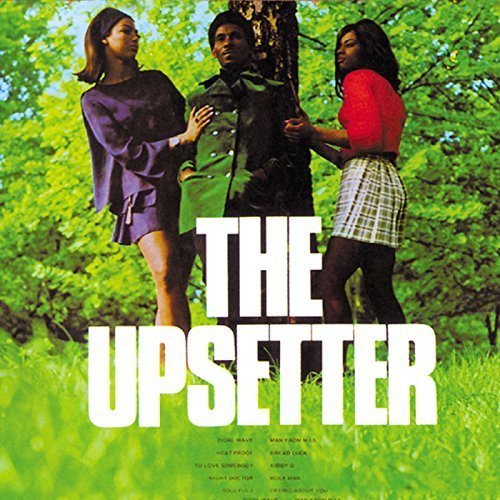 THE UPSETTER - various artists - BRAND NEW CASSETTE TAPE
---
A Daru State of Mind is a celebration of the art of production from two prolific and incredibly gifted musicians, Daru Jones and Kev Brown. It also features living legend Eddie Sancho, an engineer known for his work on classic records from Gang Starr, Nas, Jay-Z, and a host of others. This creates an air of unfiltered creativity from everyone involved, and it provides listeners with a "fly on the wall" experience that's truly something to hear.

Across the entirety of A Daru State of Mind, we're treated to 20 tracks that feature raw, instrumental excursions as well as some background on Daru, Kev, and Eddie. On "Daru State of Mind," for example, you first hear the mind-bending creativity of Kev as he chops up drums from Daru's sample pack. And as the music fades, you hear the collaborators show their love for one another's work and how excited they are to work together. 

They bring that same feeling on other instant highlights. There's the beautifully dusty "Eddie's Dream," which showcases his signature mixing techniques that helped bring Premo's classic boom-bap sound to prominence. Similarly, "Fat Beats Salute" pays homage to both the original NYC Fat Beats and all the records coming out of the shop in the '90s. "Being a fan and just walking into the village location in NYC, the energy of the room was crazy," Daru says. "And you never knew who would pop up."

There's just a certain magic to A Daru State of Mind, from the organic nature of the recording itself to the actual music contained within it. And it makes for a truly exciting listen for anyone with even a remote interest in hip-hop production—and just anyone who likes straight-up dope instrumentals.
-Collaborative album co-produced by Daru Jones—one of the most elite drummers in the living era—and Kev Brown, one of the more respected beat makers of the past two decades.
-Daru is currently touring as lead drummer for Jack White, and is also the Musical Director for Pete Rock & The Soul Brothers that helped craft live replay instrumenals for, Petestrumentals 3.
-The album is mixed entirely by acclaimed studio engineer, Eddie Sancho, responsible for mixing the bulk of DJ Premier's production work.
---
Share this Product
---
More from this collection